Machine Intelligence Research is indexed in Emerging Sources Citation Index (ESCI). Emerging Sources Citation Index provides Web of Science Core Collection users with expanded options to discover new areas of research in evolving disciplines, as well as relevant interdisciplinary scholarly content across rapidly changing research fields.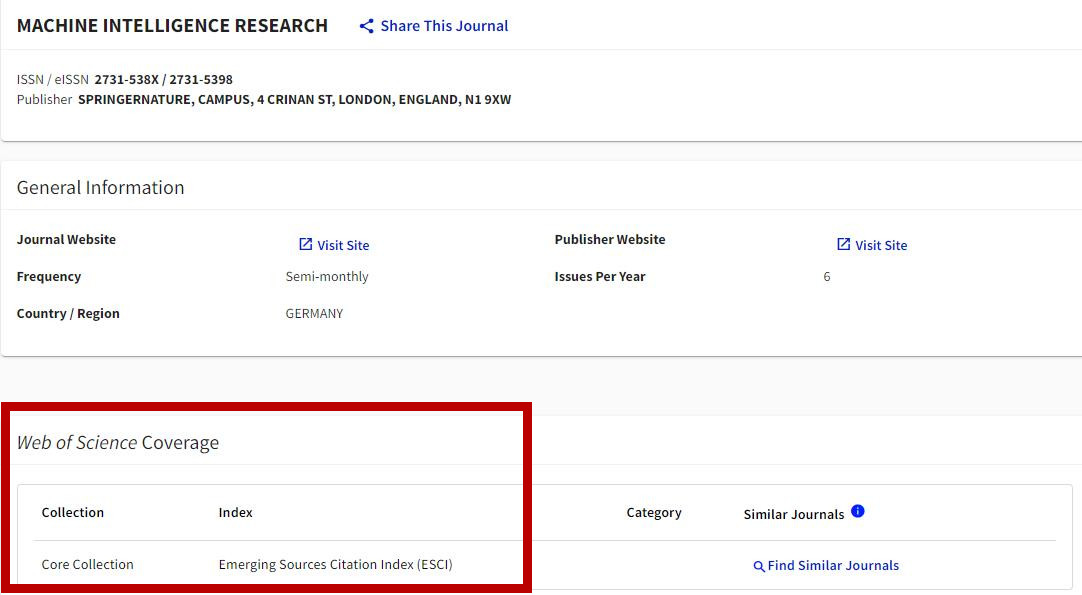 All journals in the ESCI have been rigorously hand-selected and reviewed by Clarivate Analytics editorial team as important titles to key opinion leaders, funders, and evaluators worldwide. The list is continuously evaluated and evolving, with new titles being added regularly. These titles are also being evaluated on a continual basis for inclusion in the SCIE, SSCI, and AHCI.
======================
MIR welcomes reviews, research articles, perspectives and correspondences exploring AI Fundamentals, Brain-Inspired Intelligence, Pattern Recognition & Machine Learning, Machine Vision, Speech and Language Processing, Robotics, Knowledge Discovery & Data Mining, and Applications of Machine Intelligence. The journal is currently abstracted and indexed in ESCI (Emerging Sources Citation Index), EI Compendex, Scopus, Chinese Science Citation Database (CSCD), CNKI, Dimensions, and included in the list of Key Magazine of China Technology (中国科技核心期刊). Submit your article now at
https://mc03.manuscriptcentral.com/mir.
▽About Machine Intelligence Research
Machine Intelligence Research (original title: International Journal of Automation and Computing), published by Springer, and sponsored by Institute of Automation, Chinese Academy of Sciences, is formally released in 2022. The journal publishes high-quality papers on original theoretical and experimental research, targets special issues on emerging topics and specific subjects, and strives to bridge the gap between theoretical research and practical applications. MIR has Professor Tieniu Tan (Chinese Academy of Sciences, China) as Editor-in-Chief, and Professors Liang Wang (Chinese Academy of Sciences, China), Yike Guo (Hong Kong Baptist University and Imperial College London, UK) and Brian C. Lovell (The University of Queensland, Australia) as Associate Editors-in-Chief.
·Find MIR at:
https://www.springer.com/journal/11633